Changes to NCEA for 2020 in response to COVID-19
The New Zealand Qualifications Authority has informed Forest View High School of changes to the National Certificate of Educational Achievement (NCEA) for the 2020 academic year.
The additional changes are:
Students working towards an NCEA can gain additional credits, based on the number of credits they achieve during the 2020 school year. For every 5 credits a student achieves towards their NCEA through internal or external assessment, they can be awarded an additional 1 credit. Students at NCEA Level 1 are eligible for up to a maximum of 10 additional credits while those at Levels 2 or 3 are eligible for up to a maximum of 8 additional credits. These will be known as Learning Recognition (LR) credits.
Students will be awarded a certificate endorsement if they achieve 46 credits at Merit or Excellence level, rather than the usual 50. Students achieving 12 credits at Merit or Excellence level in a course – rather than 14 – will be awarded a course endorsement.
Current University Entrance (UE) requirements have been reduced to 12 credits in three UE-approved subjects, from 14 credits in each of three approved subjects. Students still need to attain NCEA Level 3 and meet the literacy and numeracy requirement to be awarded University Entrance.
Additional changes to NCEA and University Entrance (UE) give students a fair opportunity to achieve qualifications and awards despite the disruption to teaching, learning and assessment from COVID-19, while preserving the integrity of NCEA and UE. These changes apply only for 2020.

These changes are good news for students and will be welcomed by the sector.
For further information please refer to the NZQA website.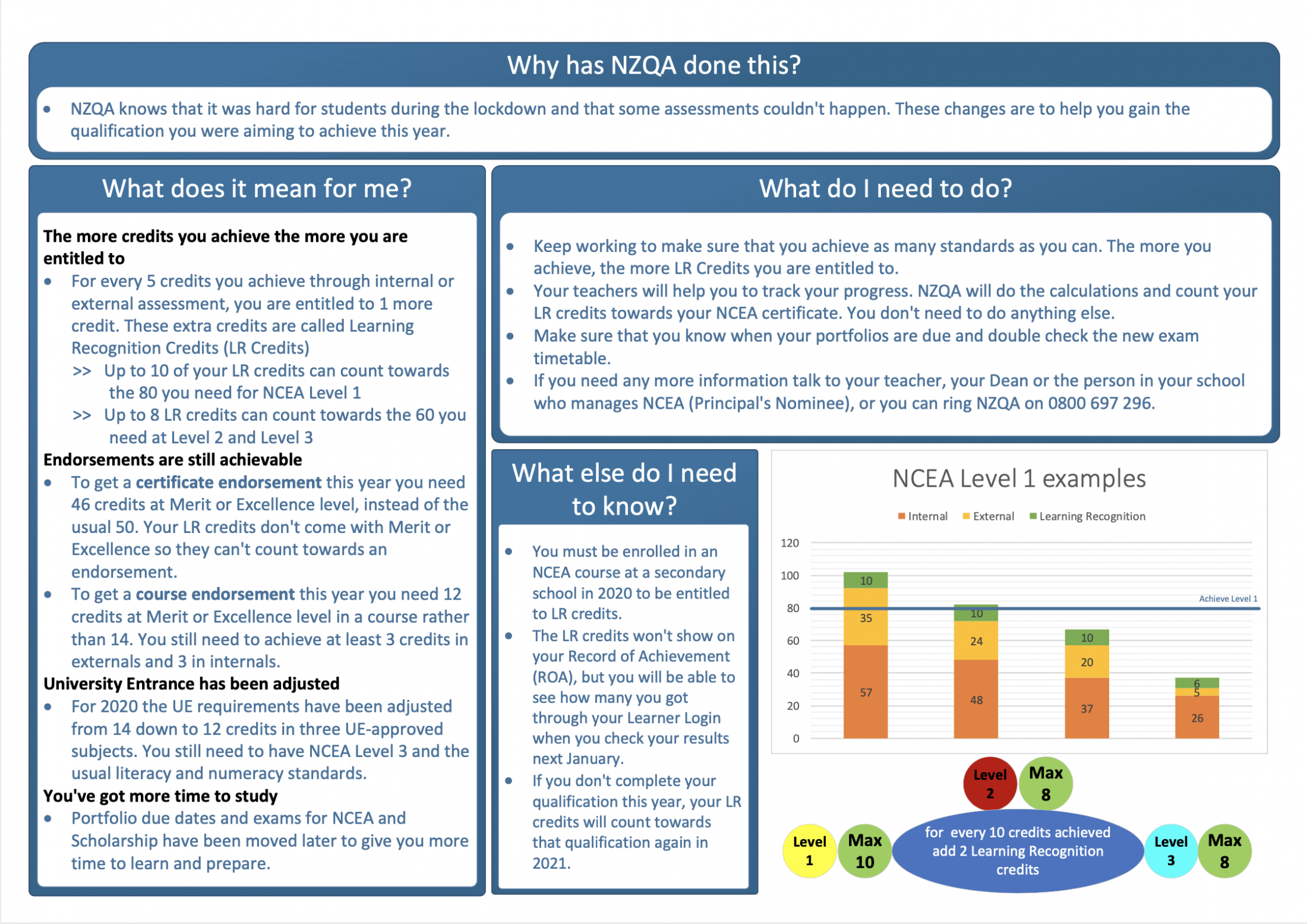 Share this article: